Frequently Asked Questions
What's my jewelry worth?

I am often asked, "What's my jewelry worth?" And while that is a simple question, the answer is not as simple. The answer depends in part on what you want to do with your jewelry. Was the jewelry inherited or a gift (estate jewelry) and you want to sell it? Is the jewelry valuable and you need to insure it? Do you have outdated gold jewelry that you are interested in selling? Your answer to these questions determines how your jewelry will be valued, and what it is worth.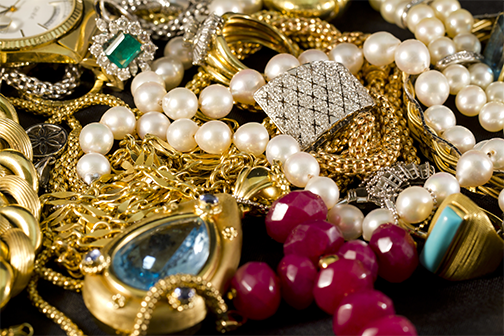 How do I know if I need an appraisal?

I have some jewelry from my grandmother – I don't know what it is. Can you help? Yes, we can. Many of our clients have jewelry of unknown identification or value. We do consultations to identify the gemstones and/or diamonds and metal karatage to determine what you have and whether you should keep it, insure, or scrap it, as is often the case with outdated gold chains. We'll let you know the market value if you plan to sell it. And if it's something you want to insure, we can prepare an appraisal for you.
What is the process that is followed to develop an appraisal?

There are six steps involved in the appraisal process as follows: 1) establish the scope of the appraisal, 2) plan the appraisal, 3) collect and analyze the data, 4) apply a valuation approach, 5) set limitations and contingency conditions, and 6) supply the final estimate of value.
Do I have to leave my jewelry with you?

No. We will schedule an appointment at your convenience. At the appointment, we will clean, identify, measure, weigh, grade, and photograph your jewelry. Most appointments take 30 minutes; longer appointments may be needed for multiple items. You will leave with your jewelry. Typically, within 5-7 business days, you will receive your appraisal via email. Payment for the appraisal, and any hard copies requested, is due at the time of your appointment.
What is the relationship between an insurance appraisal for a jewelry item and that item's insurance premium?

An appraisal is used to determine the maximum amount of coverage of an item which is turn is factored into calculating the insurance premium for that item. Be wary of any appraisals with over-inflated values. Over-inflated values will cause you to pay higher premiums and will typically not result in a higher payment in the event of a loss.
How is jewelry from my mother's estate handled?
Who is a professional jewelry appraiser?

At the present time anyone can call oneself a professional jewelry appraiser. However, self-anointing does not confer expertise. The key is education. A gemologist who has undergone formal gemological training, holds a degree or special education in valuation science, and has buying and selling experience either on a wholesale or retail level has the basic prerequisites of an appraiser. Participation in professional appraising organizations is important, as well. It is critical that any jewelry appraisal be developed and written in accordance with the Uniform Standards of Professional Appraisal Practice (USPAP), authorized by Congress as the source of appraisal standards and appraiser qualifications..
Can I drop by your office to get an appraisal?

In order to best meet the needs of our clients, services are provided by appointment only. To schedule an appointment please contact us at 404-840-1264 or via email. Payment for services rendered is due at the time of the appointment. We accept all major credit cards, debit cards, local checks, and cash.